---
Get immediate relief from the comfort of your own home
Buy painkillers and expensive massagers to relieve chronic discomfort? Tired of paying too much for chiropractors, masseurs and physical therapists?
The DualPro pressure point massager is designed  to provide immediate and lasting relief.
Get relief anytime, anywhere
Neck and shoulder pain  can occur anywhere , and due to restricted  blood flow , it usually  leads to tension headaches and migraines  . 
This lightweight massager can be  stored anywhere,  so you can relieve tension and discomfort  at any time .
Reproduce the feeling of a real massage
Most people pay for expensive treatments because they are unable to relieve discomfort and tension in specific areas at home.
The double trigger point massage ball  replicates the pressure movement of a physical therapist.  Experience the professional feeling and release your discomfort anytime, anywhere.
Instant improvement of sleep quality
End your day without disturbing discomfort or pain that will keep you awake at night, and  start tomorrow with higher energy.
A simple massage on the right area can  improve sleep and energy.
This is the reason for creating the perfect neck massager
✔With two soft, strong silicone balls, designed to target muscle knots, tightness and tension
✔符合人体工程学的 灵活支架轻巧耐用,适合所有颈部尺寸
✔防滑手柄在支架臂上提供强大的抓地力和控制力
✔由专业理疗师、脊椎按摩师和按摩师推荐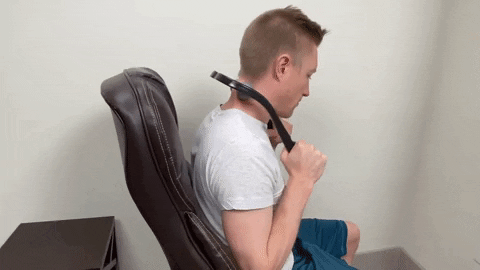 我们的客户希望他们早点拥有这个
"我的妻子有非常严重的持续性颈部疼痛。她尝试了所有方法:冰敷、热敷、按摩、针灸、类固醇注射。她觉得使用这个简单的设备非常舒服。物有所值。" - 雅各布 G。
"我去过脊椎按摩师、医生、按摩、弹出 Advil、热敷袋,所有治疗颈部疼痛的方法,这几乎立即缓解了我的疼痛。我不知道这是巫毒教、科学还是魔法,但是有用。" - 乔什K。
"我经常头疼,我的脊椎按摩师解释说这是由于我的肩膀一直紧张到我的脖子造成的。这款按摩器便携且易于使用。我买了两个,所以我在办公室有一个在办公室,一个在家里." - 安娜 L。
我们如何与其他颈部按摩器进行比较
如何给自己最好的按摩
1. 拉伸括号并打开
2. 将球放在目标触发点上
3. 在支架两侧按压按摩部位
4. 缓慢横向按摩
产品规格
材料:优质 ABS 塑料和硅胶
颜色: 淡蓝色
按摩球尺寸:42 毫米(1.7 英寸)
产品尺寸:35 x 18 x 3.3 厘米(13.8 x 7 x 1.3 英寸)
产品重量:310 克
经常问的问题
问: 我可以多久使用一次?
答: 我们建议每周使用 2-3 次,但您可以根据需要随时使用以缓解任何不适
Q: Can this be used on other body parts?
A:  Yes, we strongly recommend that you use this massager on other uncomfortable parts of your body, such as temples, skull, arms, legs, upper and lower back and sides. We were told that it helps to relax the hamstrings!
Question: Is the  ball fixed in place or rolling?
Answer: The  massage ball is fixed in place, but it can be loosened according to your preference.
Q:  How strong massage can I expect?
Answer: It  is strong enough to provide powerful manual massage, and it is difficult for the ball to penetrate deeper tissues.
Question: Is the  ball made of soft material or hard material?
A:  Soft but strong silicone.
Q:  How strong is the plastic?
Answer: It is very strong because it is flexible and can be stretched at any angle.
Unpacked site guarantee
✔ Free shipping worldwide 
✔ 100% satisfaction or refund within 60 days 
✔ High quality and materials