---
The problem is that he eats too fast and spills the croquettes on the ground, especially his bad posture
, which is dangerous to Felix's health and happiness.
Today is over!
With this raised and practical three-in-one cat bowl, he eats better, no longer sprinkle coarse grits, and no longer vomit.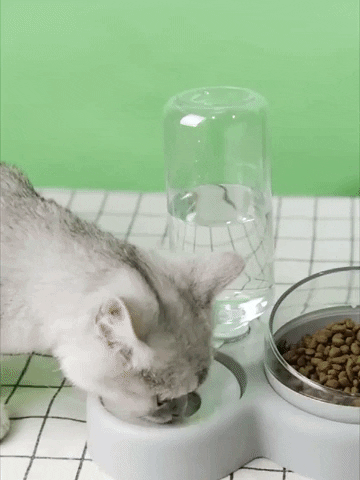 unique design
The practical three-in-one cat bowl is specially designed so that  your cat does not have to bend over when eating to reduce neck pressure .  The food bowl is placed at a height that is comfortable for your cat to  promote the health of the digestive system. 
comfortable 
A 15-degree inclined design reduces the distortion of the cat 's neck . The three-in-one convenient cat food bowl also provides more comfortable food for cats suffering from arthritis, neck pain or back pain .
Welfare
 With this more powerful and ergonomic bowl , coupled with its 15-degree tilt, Félix is ​​no longer difficult to get food. 
Non-slip
The base provides guaranteed stability for the bowl, and the bowl is simply clamped on it. There is a non-slip device under the base , which can hold the bowl, so it will not move.
Manufacturing materials
Made of safe, non-toxic and environmentally friendly PVC, durable and stable in use. Easy to clean because the bowl can be removed from the base, so it can be cleaned separately in the dishwasher.
feature
Each bowl contains  500 grams of  cat food. A 500ml bottle of  water is suitable for cats to drink for 2-3 days.
30-day satisfaction or money-back guarantee