---
"I have NEVER seen a bag like this! Instead of digging in my cosmetic bag and pulling out stuff and putting them on my counter like a nightmare, I leave it all in this bag. I spread it out to see everything easily. Absolutely love this!"
⭐️ ⭐️ ⭐️ ⭐️ ⭐️
- Maggie V. 
✅
Verified Customer
 

Changing The Way You Store Your Makeup!


Are you still struggling to find your cosmetics every time you apply makeup? Spending 20 minutes digging into your makeup bag for one item, dumping everything out, and eventually putting them all back one by one? Now - it's time to ditch the traditional "blackhole" makeup bag!
Magic Makeup Bag features a special expandable design with elastic holders and a velcro top, providing fast access, quick clean-up, and ample storage for all your cosmetics. You will never have to go through the hassle of emptying and repacking all your items every time you put on makeup anymore!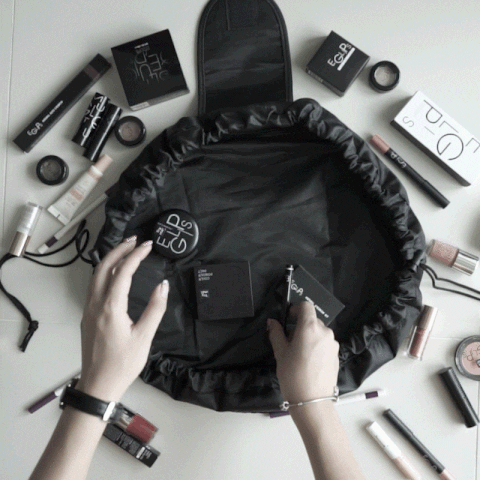 ✨ Why Everyone Is Loving Our Magic Makeup Bag:


✅
Fast & Easy
No more endlessly rummaging in your makeup pouch! Simply lay this makeup bag open on a flat surface and you will be able to see and access everything at once, saving you time and energy from blindly digging.
✅
Quick cleanup
With Pull, you will never have to manually put all your makeup back again. Featuring an easy-to-close drawstring top, you can now store up your makeup in seconds with just an easy tug of the strings!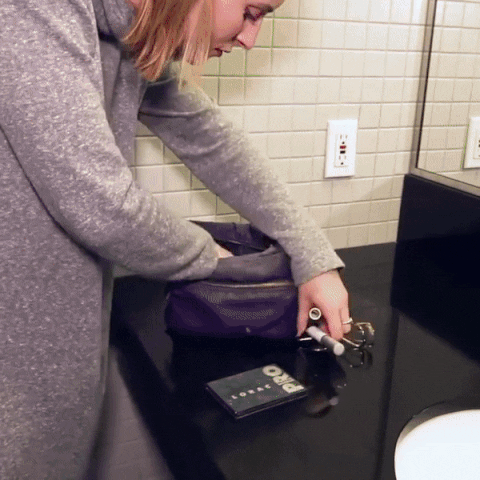 ✅
Extra spacious
Got a ton of makeup? No worries! Pull is designed with elastic holders for extra space, giving you enough room to hold all your cosmetics in one bag. The raised outside lip also keeps your items safe from rolling away.

✅
No more lost & forgotten makeup
Being fast, convenient, and spacious, Pull lets you store and access all your makeup in ONE place, saving you money from buying new makeup because you accidentally lose it or even forget that you have it!

✅
Clean & Sanitary
Putting your cosmetics and brushes on an unclean counter can be harmful to your health, especially when it goes onto your face. This makeup bag makes a perfect mat for you to place your makeup, keeping your personal items clean and safe!
✅

Waterproof & Machine-washable
Pull is made of waterproof material, freeing your concern of using it in a wet place. It's also machine-washable so you will never have to worry about accidentally spilling your foundation or mascara anymore.
✅
Perfect for on-the-go
Being compact and lightweight, Pull is perfect for travel, or just a simple touch-up. Open it up whenever, wherever you want and you'll be ready to go!
How To Use:
Step 1: Lay all your cosmetics inside
Step 2: Pull the strings
Step 3: Fasten the strings
Step 4: Stick the velcro cover and enjoy a fast and easy makeup routine every day!
We understand how frustrating it is when you have to dig hard inside a traditional makeup bag to reach every item you need, especially when you have an important event or meeting to attend to. This can waste a lot of valuable time and energy, making makeup application more difficult and bringing hassle to your daily life.
No matter how clever cosmetic bags get with wide openings and pockets, it feels like there's always something buried. Thankfully, Pull-N-Go™ is here to solve this problem once and for all. Now you can effortlessly reach your items with a simple tug of the strings, and store everything back up in seconds, bringing you absolute ease and convenience every day!


Specifications:

Size: 24.00 x 20.00 cm | 9.45 x 7.87 in
Weight: 0.1 kg

100% MONEY BACK GUARANTEED!
We believe our products are some of the best in the world. To back this up, we provide all customers with a 30-day RISK-FREE warranty.
 We understand buying items online can sometimes be a daunting task and want you to feel certain that there is ZERO risk shopping at The Urban Deluxe.