---
LIVE A PAIN FREE LIFE WITH NECKCORRECT
NeckCorrect will get you instant relief from pain in the neck muscles and cervical spine.
All you need is to wear the NeckCorrect for 5-10 minutes a day, which will give you pain relief for the rest of the day.
By using the NeckCorrect daily, you will both feel the pain easing and see long lasting results.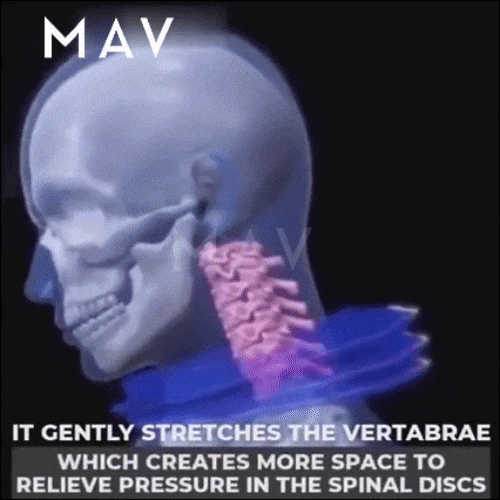 HOW IT WORKS
Neck pain is caused by an overload of pressure on the neck muscles, or when there is decreased space between discs between the spines. This could lead to several discomforts such as headaches, prolapsed discs or pinched nerves.
NeckCorrect allows you to get rid of these issues, by helping you to relax and to stretch the neck muscles.
The NeckCorrect relieves tension & pain by promoting an increased blood circulation to the area. This is accomplished by increasing the amount of space between your intervertebral discs.
One NeckCorrect session will give you instant relief, and by continuously using the NeckCorrect on a daily basis, it contributes to a proper spine alignment, an increased range of motion and an overall healthier life.



WHO IS IT FOR?
If you sit at the computer often, travel frequently, or suffer injuries, then NeckCorrect is perfect for you.
It's been designed to be fully adjusted to your needs by means of the precise hand pump mechanism to keep your neck aligned no matter where you are.
Use it during work, as a travel companion on long drives and flights, and to help relieve pain caused by injuries.
It's the perfect solution for anyone looking for neck pain relief!



HOW DO I USE IT?
Follow the 4 easy instructions below ensure neck relief:
1. Place the NeckCorrect around your neck: The air pump should be on your right size, then attach the adjustable velcro straps.
2. Close the air release valve: Turn the air release valve clockwise to close the valve, which is located at the pump bulb.
3. Inflate the NeckCorrect: Squeeze the pump repeadedly until the NeckCorrect is inflated and firm. Make sure it feels comfortable and steady.
4. Prevent air from coming through: When the desired firmness of the NeckCorrect has been reached, push the ball valve down inside the tube so that no air can pass through.


OUR GUARANTEE:
We truly believe we offer the highest possible quality at the best prices. 
We will do WHATEVER it takes to make sure you are satisfied with your purchase.
If you are not satisfied with your order, please send us an email and we will make sure to resolve the issue.
Please contact us if you need any further assistance.
Hit 'ADD TO CART' to buy now while our SALE lasts!